Personal Statement
//////////////////////////////////////////////////
I'm a 37 years old Art Director & Freelance Designer from Halle (Germany) currently based in Germany and USA. I love everything that has to do with Web design & development, Graphic design, Packaging, Industrial design and I feel a true devotion for Photograpy/ Video.
I have 12 years of experience working as a freelance and working on an studio. I love working with people, specially if they have the same passion I have for what they do.
When I'm not working, I enjoy my time with my wife and my kids and we explore the whole world. I also train together with my friends and hit the gym every day or i ride with my bicycle in to the nature to stay fit and healthy. I'm also a small entrepreneur and loves to write on boards worldwide and give advice about fitness, events and design.
Why don't we work together? Go futher down to see why I am the man you need to hire.
Dont be afraid and get in touch wih me! Thats all folks, thats me – design, love and rock 'n roll!

Education Skills
//////////////////////////////////////////////////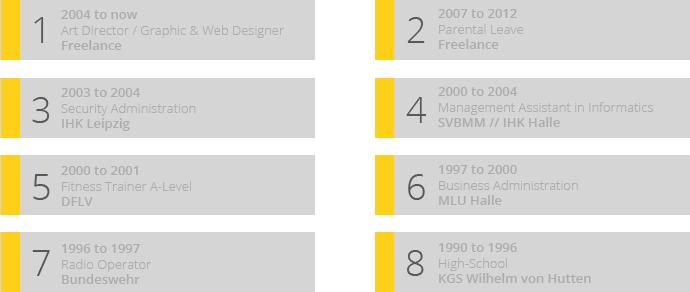 Languages Skills
//////////////////////////////////////////////////




Design Skills
//////////////////////////////////////////////////





Don't be afraid and get in touch with me 😉